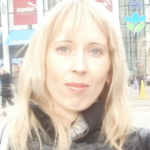 PERSONAL
Responsible, trustworthy, friendly, honest, purposeful, patient, helpful, polite. I'm satisfied with my job and always try to help my client and respect his honour and gratitude.
SERVICES OFFERED
Interpreting and translation services of any kind
Translation of letters and other correspondence
Meeting at the airport (train/bus station)
Guided tour over the city
Booking of flights, transport tickets
Teaching English (private lessons for your girl-friend)
Any other kind of personal assistance during your stay in the city
EDUCATION
1992-1997: Dnepropetrovsk State University, Psychological Department (with additional specialization in teaching English).
WORK EXPERIENCE
1997-2000: Interpreter in "Karich-Dnepr" Co., Ltd.
2001-2004: Interpreter in "Promik" Co., Ltd.
2005 to present: Teacher of English in specialized English school 22
2005 to present: Freelance interpreter, tour guide