Trans Siberian Railway Travel. Info for planning a trip on the Trans Siberia Railroad, including tours, online ticket purchase, Trans Siberian Forum, facts, photos and video.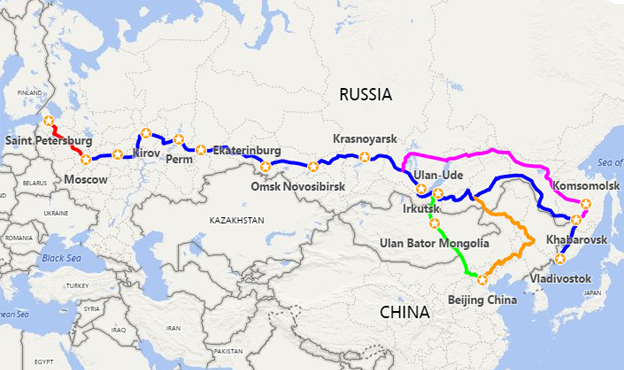 Click here to open a larger interactive map
Trans Siberian Line
Although slight variations exist, here is a general itinerary of the Trans Siberian Railway.
Moscow (Yaroslavsky Station) 0km, Moscow Time
Vladimir 210km, Moscow Time
Nizhny Novgorod 461km (6hrs), Moscow Time
Kirov 917km, Moscow Time
Perm 1,397km (20hrs), MT+2
Europe – Asia Boundary 1,777km, MT+2
Ekaterinburg 1,778km (1day 2hrs), MT+2
Tyumen 2,104km, MT+2
Omsk 2,676km (1day 14hrs), MT+3
Novosibirsk 3,303km (1day 22hrs), MT+3
Krasnoyarsk 4,065km (2days 11hrs), MT+4
Taishet (junction with Baikal-Amur Line) 4,483km
Irkutsk 5,153km (3days 4hrs), MT+5
Ulan-Ude 5,609km (3days 12hrs), MT+5
Junction with Trans Mongolian Line 5,622km
Chita 6,166km (3days 22hrs) MT+6
Tarskaya (junction with Trans Manchurian Line) 6,274km
Birobidzhan 8,312km (5days 13hrs)
Khabarovsk 8,493km (5days 15hrs), MT+7
Ussuriysk (junction with line to North Korea) 9,147km
Vladivostok 9,288km (6days 4hrs), MT+7
Trans Mongolian Line
The Trans Mongolian Line follows the same route as the Trans Siberian Line, before it branches off just after Ulan-Ude.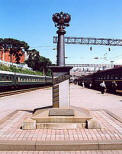 Junction with Trans Siberian Line 5,622km
Naushki (Russian border town) 5,895km, MT+5
Russian – Mongolian border 5,900km, MT+5
Suhbaatar (Mongolian border town) 5,921km, MT+5
Ulaan-Baatar (Mongolian capital) 6,304km, MT+5
Zamiin Uud (Mongolian border town) 7,013km, MT+5
Erlian (Chinese border town) 842km from Beijing, MT+5
Datong 371km from Beijing, MT+5
Beijing MT+5
Trans Manchurian Line
The Trans Manchurian Line follows the same route as the Trans Siberian Line, before it branches off at Tarskaya (just over 100km south east of Chita).
Tarskaya (junction with Trans Siberian Line) 6,274km
Zabaikalsk (Russian border town) 6,626km
Manzhouli (Chinese border town) 6,638km
Harbin 7,573km
Changchun 7,820km from Moscow
Beijing 8,961km (express train takes just over 6days)
Purchase Trans Siberian Train Tickets
Video of the
Trans Siberian Railway


Moscow to Irkutsk
Trans Siberian Railway via
Trans Mongolian Line


Beijing to Irkutsk
Trans Siberian Railway via
Trans Manchurian Line


pre-Irkutsk to Beijing