Russian ballet, an art form inherited from Western Europe, has earned an international reputation of excellence. Very few nations have achieved so much in the development and innovation of the art. Prominent Russian composers, choreographers and dancers have long garnered high regard both at home and on the world stage.
See also: Classical Music,Drama Theatre and Opera
Russian Ballet Background
Russian Ballet, like other western art forms, had its origins under the reign of Peter the Great in the early 18th century. As part of his reforms to modernize Russian society, the Czar and his successors invited French and Italian teachers of the arts. One of the first ballet teachers, Jean Baptiste Lande, brought his students who performed for the court of Russian Empress Anna Ivanovna. So impressed was she by the spectacle, that the Empress decided to start a ballet school in Russia in 1738. Initially called the Imperial Ballet School, it is now known as the world famous Vaganova Academy.
Named in honor of legendary Agrippina Vaganova, a Russian ballet teacher who perfected the teaching of Classical ballet into a workable syllabus, Fundamentals of the Classical Dance (1934), the Vaganova Academy has trained world renowned dancers such as Anna Pavlova, George Balanchine, and Vaslav Nijinsky.
Another famous ballet school, the Moscow Choreography College (commonly known as the Bolshoi Ballet Academy), had its origins later in the 18th century when Catherine the Great saw to the opening of the school at a Moscow orphanage in 1773. It was at this same time that private ballet theatres were also starting to appear and thrive amongst the courts of Russian aristocratic families.
By the 19th century ballet became a favorite art form within Russia. Special privileges were given to ballet amongst other art forms, privileges that included government grants, new theatre development, and the appointment of French ballet master Marius Petipa as chief choreographer for the Imperial Ballet School in 1871. Pepita's appointment was a step that helped set Russian ballet apart from ballet practiced in countries of origin. Initially Russian ballet, like ballet elsewhere, adhered to European Classicism. With the guidance of Petipa, and arrangements from a new era of Russian composers (including Tchaikovsky), Russian ballet developed into a full-length, melodramatic spectacle of the likes that had never been done before.
A few of the monumental Russian ballets from the late 19th century (names that everyone has heard of), include the likes of The Sleeping Beauty (choreographed by Marius Petipa 1890), The Nutcracker (choreographed by Lev Ivanov 1892), and Swan Lake (choreographed by Petipa and Ivanov 1895).
Another important contribution of Russian ballet to the art of ballet worldwide was the creation of Ballets Russes. In 1909 Sergei Diaghilev (a wealthy Russian patron of arts), arranged a Paris tour to showcase Russian ballet. An instant hit, Ballets Russes gained high esteem and led to the development of Russian ballet internationally. The ballet theatre, ironically, never performed within Russia itself, as political unrest and the 1917 Revolution forced Russian dancers and choreographers to pursue their art abroad. During the 1920s to 1940s Russian artists (thanks to the door opened by Ballets Russes), headed ballets, started schools and performed in dance troupes throughout Europe and North America, helping spread the influence and proud tradition of Russian ballet.
While the Russian Revolution was a hindrance to the development of ballet within the new Soviet Union, it was only temporary. The loss of talent through emigration was quickly filled with new performers. Far from a period of decline, the period from the 1920s to early 1930s was a time of new life and creative experiment, evident in the era's broader Avant-Garde art movement.
Like other performing arts, fine arts and architecture, the Avant-Garde period of experimentation was cut short when Joseph Stalin started to favor more Classical styles which conformed to his broader Socialist policy. By the mid 1930s ballet in Russia started to suffer from a sort of monotony – a sameness restricted almost entirely to Classical dance. Those experimenting with folk motives or non-academic forms of dance were censured and branded a "formalists".
This period of restriction in creativity was slowly relaxed after Stalin's death in 1953. By the late 1950s a new generation of Russian choreographers started to stage dramatic works more in line with great Russian ballet of the past. Genres which were censored under Stalin were reintroduced and in the 1970s and independent ballet troupes were allowed to perform. By the 1980s Russian ballet companies started to tour abroad and today, many Russian artists are enthusiastically invited to perform with foreign ballet troupes. Like the days of Ballets Russes a century earlier, Russian ballet has returned as a cultural icon enjoyed and respected by audiences worldwide.
Kiev Ballet Theatre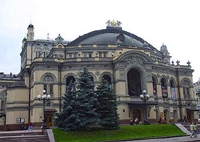 National Opera House of Ukraine
Officially named the National Academic Theatre of Opera and Ballet named after T.G. Shevchenko, Kiev's oldest musical theatre dates back to 1867. Following a 1896 fire that destroyed the original building, the theatre moved into its current, neo-Renaissance style facility in 1901. Throughout the turbulent 20th century the opera house adopted various names and followed different ideological directions (from classical Russian and European performances, to a period of Ukrainization and liberalization, to Socialist Classicism in which more contemporary works were largely condemned). Despite the change, the one thing that remained constant was the high artistic level of the troupe. Today the theatre stages a wide range of opera and ballet performances, both classical and contemporary, and has earned awards and recognition both at home and around the world.
address: 50, Vladimirskaya street, Kiev
metro: Zoloti Vorota
website: Opera.com.ua
---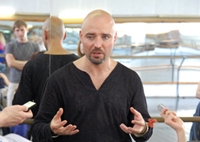 Kyiv Modern-Ballet
A contemporary dance theatre founded in 2006, Kyiv Modern-Ballet is the creation of Radu Poklitaru, one of the most famous young ballet masters in Europe. Poklitaru has set out to take well-known theatrical plots and choreograph his own experimental, audacious interpretations. At present the theatre company has produced over 20 one-act and full length performances that can be viewed around Kiev, Ukraine and abroad.
address: 2, Mezhigorskaya street, Kiev
metro: Kontraktova Ploshcha
website: KMBTheatre.kiev.ua
---