Russian classical music has a proud history of celebrated composers, conductors and musicians. For aficionados of classical music and for those who will be visiting Russia and Ukraine's historic concert venues, we've created a overview of this cherished art form. Included is a brief history of classical music in Russia, CDs, LPs and mp3s with the works of great Russian composers, as well as a list of must see concert halls.
See also: Drama Theatre, Opera and Ballet
Russian Classical Music Background
Classical music in Russia can be broken down into several different periods of the Classical, Romantic, and Soviet eras. Throughout each period, Russian and Soviet conservatories have produced numerous celebrated composers, as well as a wealth of renowned musicians and conductors.
Some of Russia's most recognized musicians include pianists Vladimir Horowitz, Sviatoslav Richter and Emil Gilels, violinists David Oistrakh and Gidon Kremer, as well as one of the greatest cellists of the 20th century, Mstislav Rostropovich.
Western music tradition was originally introduced to Russia by Czar Peter the Great in the early 18th century as part of his reforms to modernize Russian society. During the reign of subsequent Russian rulers, the imperial court invited many prominent Italian musicians who brought with them Classical traditions of opera, chamber music and symphony. While this foreign influence helped inspire Russia's early Classical musicians, Russian composers were also sent abroad to refine their skills. A few of the early Russian / Ukrainian composers of the Classical period include the likes of Maksim Berezovsky, Dmitri Bortniansky, and Artem Vedel.
It didn't take long until a number of Russia's Classical composers started to use native music traditions (Russian themes and tunes, Russian – vernacular language) in their own compositions. The first to do so was Mikhail Glinka, the "father of Russian Classical music". Glinka helped pave the way for a new generation of Russian composers who's works – based on Russian history, folk tales and literature – are regarded as Romantic Nationalism. The most famous composers of this style, belonging to a group known as The Five (1856-1870), included Mily Balakirev, Alexander Borodin, César Cui, Modest Mussorgsky, and Nikolai Rimsky-Korsakov.
Another, more conservative, organization of the same era was the Russian Musical Society (RMS). Founded by brothers Anton and Nikolai Rubinstein in 1859, the RMS sought to broaden music training and raise musical standards in Russia. A forerunner to both the Saint Petersburg (1862) and Moscow (1866) Conservatories, the RMS was an integral catalyst to professional music education in Russia.
Training from Russia's new conservatories, along with inspiration and tutelage from "The Five", helped develop many great Romantic era composers of the 19th and early 20th centuries. A few familiar names include the great Peter Tchaikovsky, Sergei Rakhmaninov, Igor Stravinsky, Alexander Scriabin, and Sergei Prokofiev.
Radical social changes of the 1917 Russian Revolution brought about sweeping changes in Russian music. While some of Russia's great composers and musicians fled abroad, others stayed behind and embraced experimental Avant-Garde style compositions. In 1923, the Association for Contemporary Music (ACM) was founded by Nikolai Roslavets as a means to facilitate and promote modernist, Avant-Garde music.
The Avant-Garde period, while innovative, was fairly short-lived. By the early 1930s experimental, ultra-modern forms of art, including music, fell out of favor with Joseph Stalin. The Soviet leader favored the style of Socialist Classicism, music that could be scrutinized and kept within the conforms of the broader Socialist policy.
A few distinguished names of early Socialist Classicism included composers Prokofiev and Dmitri Shostakovich. Falling under the scrutiny of the Union of Soviet Composers (established in 1932), Prokofiev and Shostakovich, like all Soviet composers of the era, were restricted from outside influence and expected to create patriotic scores, supportive of Communist ideology.
Anyone experimenting or deviating from the norm was branded a "formalist", as was the harsh criticism towards Shostakovich after the 1934 release of his opera Lady Macbeth of the Mtsensk District.
Kiev Classical Music Concert Halls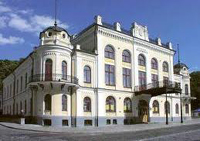 National Philharmonic
Presently called the National Philharmonic, and/or the Kiev Philharmonic, the building (built in 1882) originally went by the name Merchants' House. Used by the Merchants' Assembly for all sorts of cultural gatherings, it was particularly recognized for musical performances due to its amazing acoustics. The State Philharmonic Society was bequeathed the damaged, but still standing concert hall after the Germans' retreat in 1944. Since that time the National Philharmonic Society of Ukraine (as its officially called) has used the facility to stage a wide range of programs. In the main concert hall, known as the Lysenko Hall of Columns, visitors can enjoy a full season of concerts by Symphony and Chamber Philharmonic Orchestras, folk ensembles, plus various music festivals and competitions with distinguished national and international participants.
address: 2, Vladimirsky Spusk street, Kiev
metro: Maidan Nezalezhnosti
website: Filarmonia.com.ua
---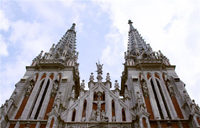 House of Organ and Chamber Music
Located in St. Nicholas Roman Catholic Cathedral (built in 1909 and restored in 1980), the National House of Organ and Chamber Music of Ukraine is a splendid Gothic style church outfitted with a specially designed Rieger-Kloss pipe organ. Performances include organ recitals, plus choral, string and orchestral ensembles.
address: 77, Velyka Vasylkivska (Chervonoarmiyska) street
metro: Respublikansky Stadion
website: OrganHall.kiev.ua