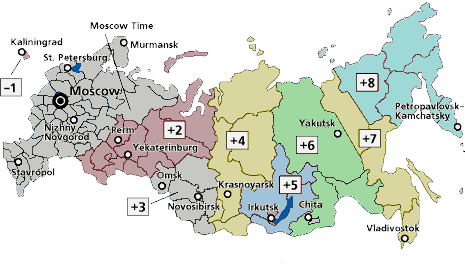 There are 9 Russian Time Zones
-1 Kaliningrad Time
(UTC+2)

Kaliningrad


Kaliningrad

0 Moscow Time
(UTC+3)

Moscow


Moscow, St Petersburg, Arkhangelsk, Astrakhan, Belgorod, Bryansk, Cheboksary, Elista, Grozny, Ivanovo, Izhevsk, Kaluga, Kazan, Kirov, Kostroma, Krasnodar, Kursk, Lipetsk, Murmansk, Naryan Mar, Novgorod, Nizhny Novgorod, Oryol, Penza, Petrozavodsk, Pskov, Rostov-na-Donu, Ryazan, Samara, Saransk, Saratov, Smolensk, Sochi, Stavropol, Syktyvkar, Tambov, Tolyatti, Tula, Tver, Ukhta, Ulyanovsk, Vladimir, Vorkuta, Vologda, Voronezh, Yaroslavl, Yoshkar-Ola

+2 Ekaterinburg Time
(UTC+5)

Ekaterinburg


Ekaterinburg, Chelyabinsk, Khanty-Mansiysk, Kudymkar, Kurgan, Magnitogorsk, Orenburg, Perm, Salekhard, Serov, Sterlitamak, Surgut, Tyumen, Ufa

+3 Omsk Time
(UTC+6)

Omsk


Omsk, Barnaul, Gorno-Altaisk, Kemerovo, Novosibirsk, Tomsk

+4 Krasnoyarsk Time
(UTC+7)

Krasnoyarsk


Krasnoyarsk, Abakan, Dudinka, Khatanga, Kyzyl, Norilsk

+5 Irkutsk Time
(UTC+8)

Irkutsk


Irkutsk, Bratsk, Ulan-Ude

+6 Yakutsk Time
(UTC+9)

Yakutsk


Yakutsk, Baley, Blagoveschensk, Chita, Mirnyi, Tynda, Udachnyi

+7 Vladivostok Time
(UTC+10)

Vladivostok


Vladivostok, Birobidzhan, Komsomolsk, Khabarovsk, Nakhodka, Nikolaevsk, Okha,Ussuriysk, Yuzhno-Sakhalinsk

+8 Magadan Time
(UTC+11)

Magadan


Magadan, Petropavlovsk-Kamchatsky, Yelizovo
Russian Time Zones – Additional Information
There are 9 time zones in Russia, more than in any other country (ie. 6 in Canada).
Moscow standard time zone is 3 hours ahead of GMT (Greenwich Mean Time).
To simplify Russia travel, rail and air schedules throughout Russia use Moscow Standard Time. Clocks in railroad stations and airports are set to Moscow Time even where it differs from local time by as much as eight hours.
Resources for Making Phone Calls at the Right Time
Here are a few of our favorite resources for calling to, from and within
Russia and the CIS.